Featured Destination
Samothrace - Greece
Exciting Destinations
My destination is no longer a place, rather a new way of seeing.
Our Popular Treks
The sun shines brightest from the peaks of mountains.
Samothrace Trek
Ancient mythology and civilizations has left its mark upon the mesmerizing landscape from endless beaches to deep forests, lofty mountains that wear the white shroud during winter, cascading gorges, whistling springs, breathtaking waterfalls and the cuisines play the perfect symphony of adventure. Come to Samothrace and fall in love with life once again.
Everest Base Camp
Have you ever aspired to walk beneath the shadows of Everest, the world's highest peak and to gaze at early morning sun bathing the summit in its golden glow! We have you covered in our Everest Base Camp trek. A 14 days odyssey that will leave you completely in awe and breathless for more reasons than lack of oxygen.
Climbing Kilimanjaro
(Highest summit of Africa) is sure to be in the bucket list of all of you. It is more of a trek as it doesn't need any technical training or equipment but top physical condition. We offer a fully guided trek to the top of Africa. Many of world's seven summit achievers started with Kilimanjaro as their first of the seven summits.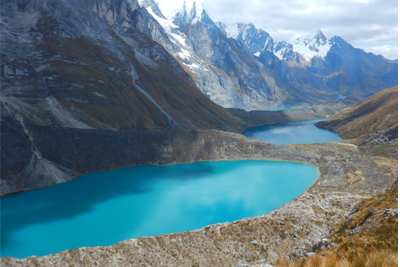 Huayhuash Trek
Cordillera Huayhuash circuit, is one of our top ten treks in the world, and according to Satya, an absolute must-do. Peruvian Andes is unparalleled in its sheer rugged beauty and nature at its most wild. This ten days circuit covers it all. It takes us around some of the world's most difficult mountains to climb, through lagoons, local villages and glaciers.
Salkantay Trek
Who hasn't heard of the Inca ruins of Machu Picchu? It is one of the most visited sites in all of Latin America. Out of many ways to get there, our favorite is the five day Salkantay trek route. You would cross remote villages and foraging lamas en route besides gazing at the majestic Salkantay peak.
Three Passes Trek
If you wish to do something even more challenging in the Everest region than the EBC trek then we have the three passes trek for you. This trek entails crossing several glaciers and surmounting three 5000m plus passes.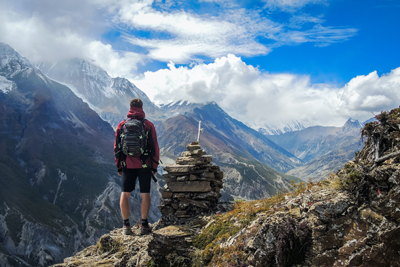 Annapurna Circuit & Annapurna Base Camp Trek
Our round Annapurna circuit and Annapurna Base Camp trek, takes you up close to the world's tenth highest peak in the world, which is also referred as the most dangerous mountain on Earth due to the number of climbers who have perished upon it.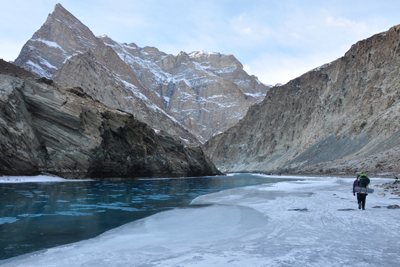 Treks in India
There are so many treks across the Great and Lesser Himalayan axis, that even ten lifetimes is not enough to cover even half of them. We run programs that combine treks and local culture experiences through home stays, etc primarily in Ladakh and Himachal Pradesh.
Why Travel With Us
There is a lot of adventures out there, waiting for us to live them!
Ethical Travel
With our core focus on sustainable tourism, outdoor best practices, leave no trace policy and highest industry standards of safety our primary goal is to offer you unique value based adventure travel across the globe, where you not only gather lifetime experiences but also contribute in supporting the local communities. We are a quasi-social enterprise and support several social organizations through our programs.
We create our trips with a unique blend of adventure, fun and social responsibility. We offer destinations that would take your breaths away and would leave you hungry for more. Be it a sunrise-selfie in the Machu Picchu ruins of Peru or sharing tea with a yak herder in remote Ladakh, we can deliver. As we like to say: if you can dream it we can make it. With our immersive human-centric approach to adventure, you would always return a different individual from within compared to the one who had started.
Life Transforming Adventures
Unparallel Experience
We have over 45 years of adventure-travel experience around the world, where our Expedition Leader, Satyabrata Dam has traveled to all the seven continents and to every country in the world and has handpicked the trips we offer, each personally tried and tested by him. Rest assured, these trips are some of his most favorite ones on planet Earth.
The Team
Team of Higher Than Everest
Leiane Penna, USA.
(Physical Educator in American Farm School, Thessaloniki)
"Standing at the bottom of the top of the world was my dream since I was a little kid. My Everest Base Camp Trek with Kiki and Satya fulfilled every part of that dream and more! They are true professionals: care about safety, sharing experiences, stories, motivating you, and helping you to reach your goal. Looking forward to my next Higher than Everest adventure with them!"
Anna Saakidou. Greece
(Lawyer)
"Kiki Tsakaldimi is a true mountain and team leader and greatest inspiration for people. Why? Simply because she always wishes to lead others into the mountains, to the great outdoors, and she strives to promote safety in the mountains and provides instruction in the skills required for leading groups as well as a team. By her motto "Higher that Everest" she manages the group effectively by setting and reviewing targets, performing ongoing risk assessments, positive decision making, delegating where appropriate, group control, discipline and good communication. I had the opportunity to climb Mt Olympus and Mt Saos under her supervision and guidance and participate in a lot of outdoors hiking. She is simply the best and trustworthy."
Archontis Exakoidis, Greece
(International Mountain guide)
"The love for nature and sports was the occasion for us to meet! The passion for mountains, mountaineering and climbing, was the reason we became good friends! We have jointly guided several groups into the Greek Mountains over the years. Kiki is consistent, responsible and a total people´s person and the way she leads and encourages others to exceed their limitations is an inspiration to all. We continue to be guiding partners."
Βyron Asimakopoulos, Greece
(Dr. in Physiology)
"If you are looking for people who can effectively guide you on mountainous routes in Greece or in climbing famous peaks abroad, Kiki and George are the right people. Both are experienced in organizing excursions on mountains for begginers or skilled climbers. They take care of all details and design the route according to the abilities of the team. They are very careful but also polite in such a way that the excursion becomes pleasant for the people who participate. Special mention should be made for Kiki: she is a high level climber as she has participated in many international mountaineering expeditions and has climbed several famous peaks abroad. In a few words, George and Kiki is a couple you can trust either for a mountaineering expedition or just for a simple excursion on mountains and hills. Go for it!"